Isaiah 61:3
…to provide for those who mourn in Zion; to bestow on them a crown of beauty instead of ashes, the oil of joy instead of mourning, and a garment of praise instead of a spirit of despair. They will be called oaks of righteousness, a planting of the Lord for the display of his splendor.
The dates are as follows for the

women

's events: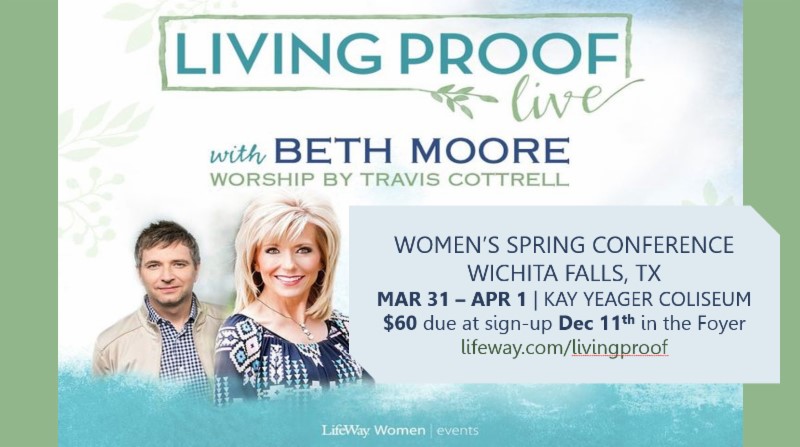 Women's Spring Conference
Wichita Falls, TX
March 31 – April 1st
Registration Underway in the Foyer
$60 Due at sign-up
Limited to 55 Ladies
Women's LifeGroup – Thursday Night

Day:

Thursday

 

Time of day:

7 pm

Location:

Post Oak

Topic:

Having a Mary Heart In A Martha World by Joeanna Weaver

 

Description:

"Come discover the best of your Mary and Martha desires as you strengthen your relationship with the God who invites you closer." from RightNow Media. A book can be purchased at waterbrookmultnomah.com paperback for $12.99 or E book $9.99 .Open to all Women. Sorry, no child care

Women's LifeGroup – Wed Night

Day:

Wednesday

 

Time of day:

7 pm

Location:

Partain Home

 

Topic:

Bible Study: Redeemed by Angela Thomas-Pharr

   

Description:

Women's Bible Study group led by Sharee Partain. Childcare is at Fellowship Church. Group is from 7pm – 8:45pm. We will be working through a new Bible study by Angela Thomas-Pharr called Redeemed. This study takes a look at the practical aspect of our redemption and encourages us to lean on Jesus for the real help and hope that we so desperately need!
Clips from Previous Retreats….
Women's Ministry Friendships of Women Fall Retreat

Watch scenes from our Fall Retreat.